Newer versions of LEED (v4 and v4.1) have pioneered the use of verified life cycle assessment (LCA) data in an attempt to provide a more holistic approach to assessing environmental impacts across the entire life cycle of a product.
The trend is moving away from reporting "recycled content" and "regional manufacturing" to the use of "product-transparency" credits. Material Ingredient Reports and Environmental Product Declarations (EPDs) are providing manufacturers with a uniform template to deliver this transparency information to customers.
EPDs are based on LCA data that addresses myriad aspects – sourcing and extraction of raw materials; manufacturing processes; health, safety and environmental aspects of production and installation; and production waste. Other aspects are product-delivery considerations, such as distances to typical markets; use and maintenance of the flooring; and end-of-product-life options such as reuse, repurposing and disposal.
MAPEI provides more than 30 Industry-Wide and Product-Specific EPDs for a wide range of products.
---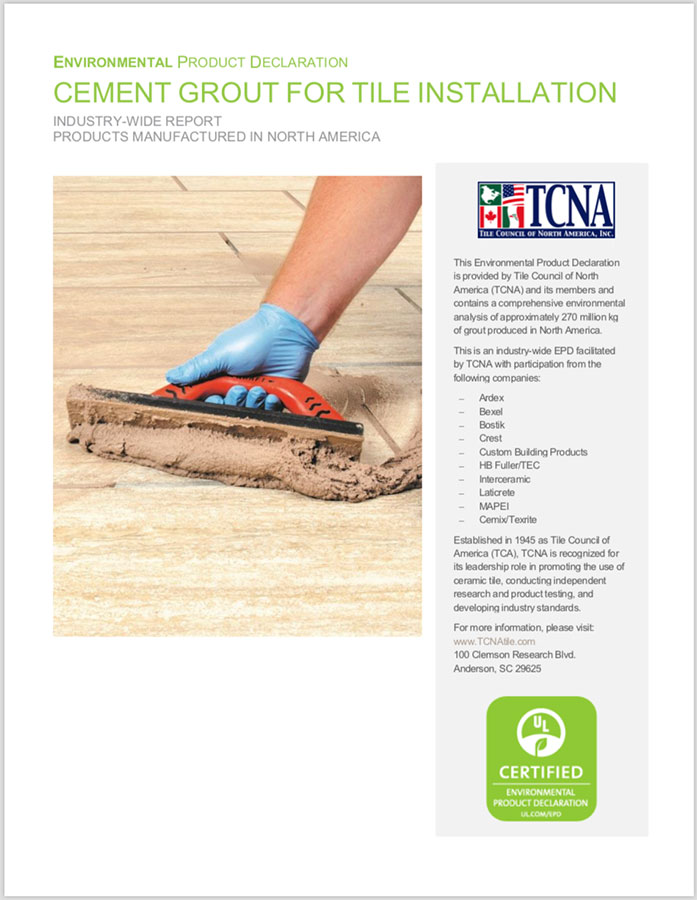 Industry‑Wide EPDs
Industry-Wide EPDs are generic declarations that cover the average product across many manufacturers; this means that these EPDs do not cover individual products because they only account for the average product in the group.
In 2014, the Tile Council of North America (TCNA) published an industry-average EPD for ceramic tile that was the first of its kind for a finished-flooring category. MAPEI participated in the TCNA's Cement Mortar for Tile Installation EPD and Cement Grout for Tile Installation EPD.
To ensure that products are compared on a level playing field, product category rules (PCRs) are used as the guidelines for determining how evaluations must be made, what information must be reported and how to organize this information in a user-friendly, reportable manner. The result is an industry-average EPD.
---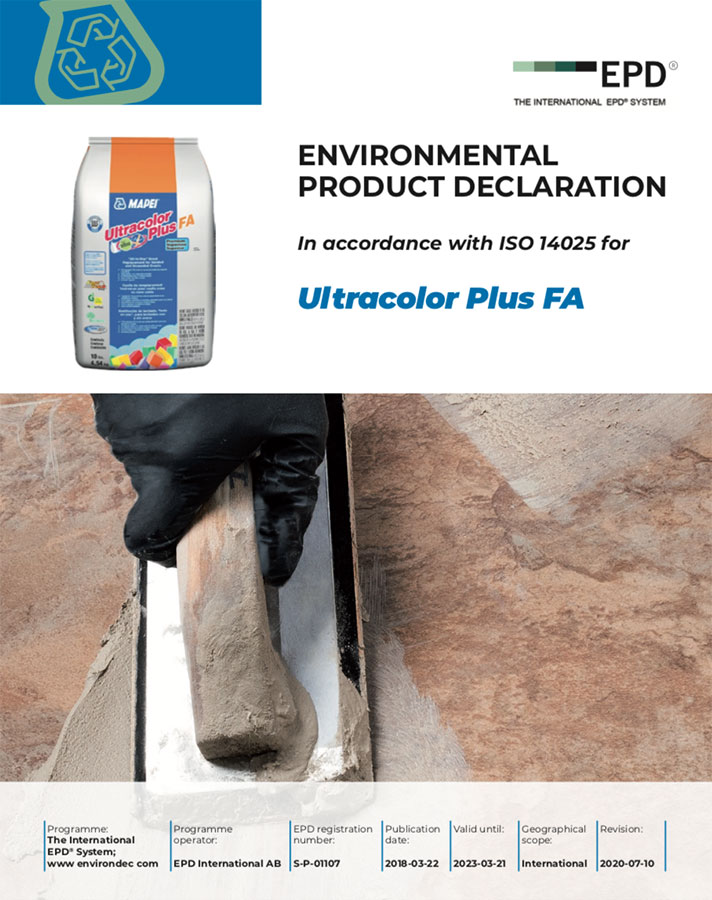 Product‑Specific EPDs
Product-Specific EPDs cover a product, or products, from a single manufacturer. MAPEI has gone beyond TCNA's industry-wide EPDs to publish our own EPDs. In 2016, Mapei S.p.A. became EPD Process Certified. This means that internal processes to produce EPDS on a large scale have been quality-assured. These types of EPDs can further contribute to LEED credits; our Product-Specific EPDs are more valuable to project teams pursuing LEED v4.1, as these EPDs cover MAPEI-specific products and are third-party-verified by the International EPD System.
MAPEI's commitment to sustainability is built into everything that we do. Ever since the company was founded more than 80 years ago, we have focused on creating building products that are not only among the best and most durable in the industry, but that are also designed to minimize any harmful impacts on health and the environment.
---
LEED v4 terminology
Life Cycle Assessment (LCA): A methodology (based on ISO 14040 and ISO 14044 standards) to access the environmental impacts of a product or service, from extraction of raw materials and processing to distribution, use and end of life. LCA gives a tangible "environmental performance" of a product.
Product Category Rule (PCR): A guideline in the development of declarations for products that are comparable to others within a product category (such as cementitious mortars and grouts). PCRs are necessary for developing an EPD. Building-product manufacturers work with a Program Operator to identify an existing PCR or to create a new PCR. The Program Operator will verify the LCA and EPD.
Environmental Product Declaration (EPD): A verifiable (ISO 14025 standard) method to communicate a product's environmental impacts – such as the energy, water and transportation that are associated with manufacturing a product – that is based on a LCA and prepared according to the PCR.