Navigating through the sea of mortars nowadays can be a daunting task. Mortars have become extremely specific, compared to when I first started installing tiles over 30 years ago. All I knew about a mortar was that it was made with Portland cement and sand and that it was sufficient for the tiles that we had to install at that time. The largest tile back then was 8" x 8" and was ceramic-based.
With time, the first polymer-modified mortar was introduced, and I didn't really know why I needed polymers in my mortar. Tiles kept changing as well, becoming larger and larger, and the composition changed from ceramic to porcelain. It was obvious that the mortars were just following the trend of the tile industry.
Necessity is the mother of all invention. So, I started taking a better look at the different mortars once the style of tiles that my clients were choosing had become significantly diversified.
Today, gauged porcelain tiles can be as large as 5' x 10' and are only 4.5 mm thick. By the way, that's about half the thickness of a standard 24" x 24" porcelain tile. The majority of the projects that I worked on in those days included showers and bathrooms. Installers today find clients wanting to install 16" x 32" tiles on a shower wall with pebbles on the shower floor and 32" x 32" floor tiles outside the shower. Most installers prefer to use only one type of mortar for all areas, so with such a wide variety of styles and sizes, the need has arisen for one mortar that works perfectly to handle these differences.
That mortar is MAPEI's Keraflex Super. When it was first introduced, I didn't know anything about this new mortar and needed more information so I could make an educated recommendation about whether installers could use this mortar over other mortars that they've used in the past.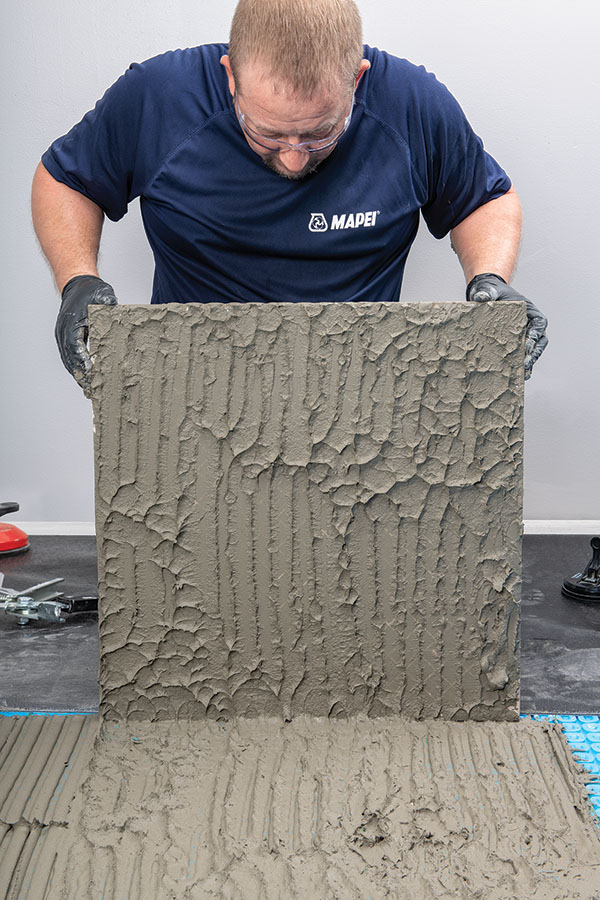 I researched the mortar and found that this is a premium, extra smooth, polymer-enriched mortar with no vertical slip and with non-sagging capabilities. The feature that most interested me was that it has no vertical slip, even with quite large tiles on shower walls. It also offers an extended working time which, when one works with large tiles, is very important. This product's open time is 30 to 50 minutes, and the pot life is around 4 hours!
The next obvious question was, "How long before grouting the tiles?" I assumed that because the extended workability of the mortar was so long, the wait time must be extended before grouting. However, with Keraflex Super, someone would be able to grout the walls after 8 to 16 hours and the floors after 24 hours.
Being the old school installer that I am, I had to see this firsthand, so our team tested Keraflex Super in our facility. As I would have expected, the mortar performed exactly as promised.
Keraflex Super has a high content of a unique dry polymer, resulting in excellent adhesion to the substrate and tile, with enhanced resistance to freeze/thaw environments. This unique consistency allows adjustability when used with lippage control systems. Keraflex Super mortar is a "go-to mortar" whenever you need a mortar for large tiles, especially in showers.
Learn more about the Keraflex family of mortars at: https://www.mapei.com/us/en-us/products-and-solutions/in-the-spotlight/keraflex-mortars
Preparation and execution go hand in hand to obtain the best possible solution to any situation.